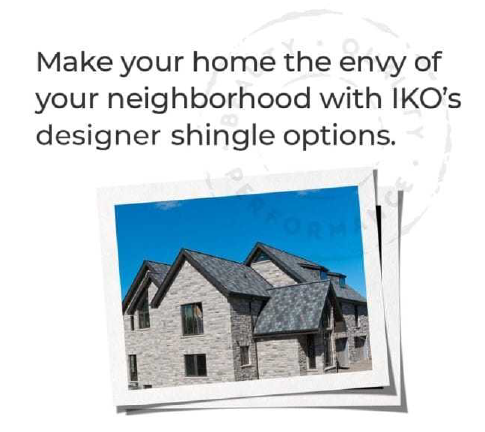 Designer Shingles
Beautiful. Distinctive. Unique. The three designer roofing shingles in this line mimic the look of natural slate tiles or cedar shakes without their associated maintenance worries and cost. IKO Armourshake, Crowne Slate and Royal Estate all deliver the ultimate in weather protection for estate homes and other high-caliber properties.
Armourshake
IKO Armourshake designer laminated architectural shingles create the rustic look of hand-cut wood shakes yet offer the added benefit of a Class A Fire Resistance rating. Advanced color technology provides homeowners with a choice of stunning colors and, combined with a deep-cut profile, the resulting good-as-new appearance will endure for years, without the need for yearly maintenance.
See your favorite shingle color on a photo of your own home with IKO's FREE interactive app.
Upload a photo of your home to find the shingle color blend that makes it look its best.
IKO Designer Shingle Gallery
See how IKO Designer shingles look on actual homes, no matter what their architectural style. If you crave the look of natural wood shakes without their flammability, the heritage look of genuine slate tiles without their weight, expense and maintenance worries, you'll find examples here. Our gallery highlights all the shingles IKO makes. You're sure to find the one to suit your budget, your homes style and yours.